In the last week of January, my best friend Richa and I decided to treat ourselves to a short weekend getaway – and took a ski trip to Vermont! New York has easy access to surrounding states, several of which are perfect for skiing. Back in California, I started skiing when I was a kid. Since moving to NYC, I've missed skiing so much (I had a lot of FOMO watching my friends ski in Tahoe). So Richa and I decided to check out the east coast slopes for a weekend!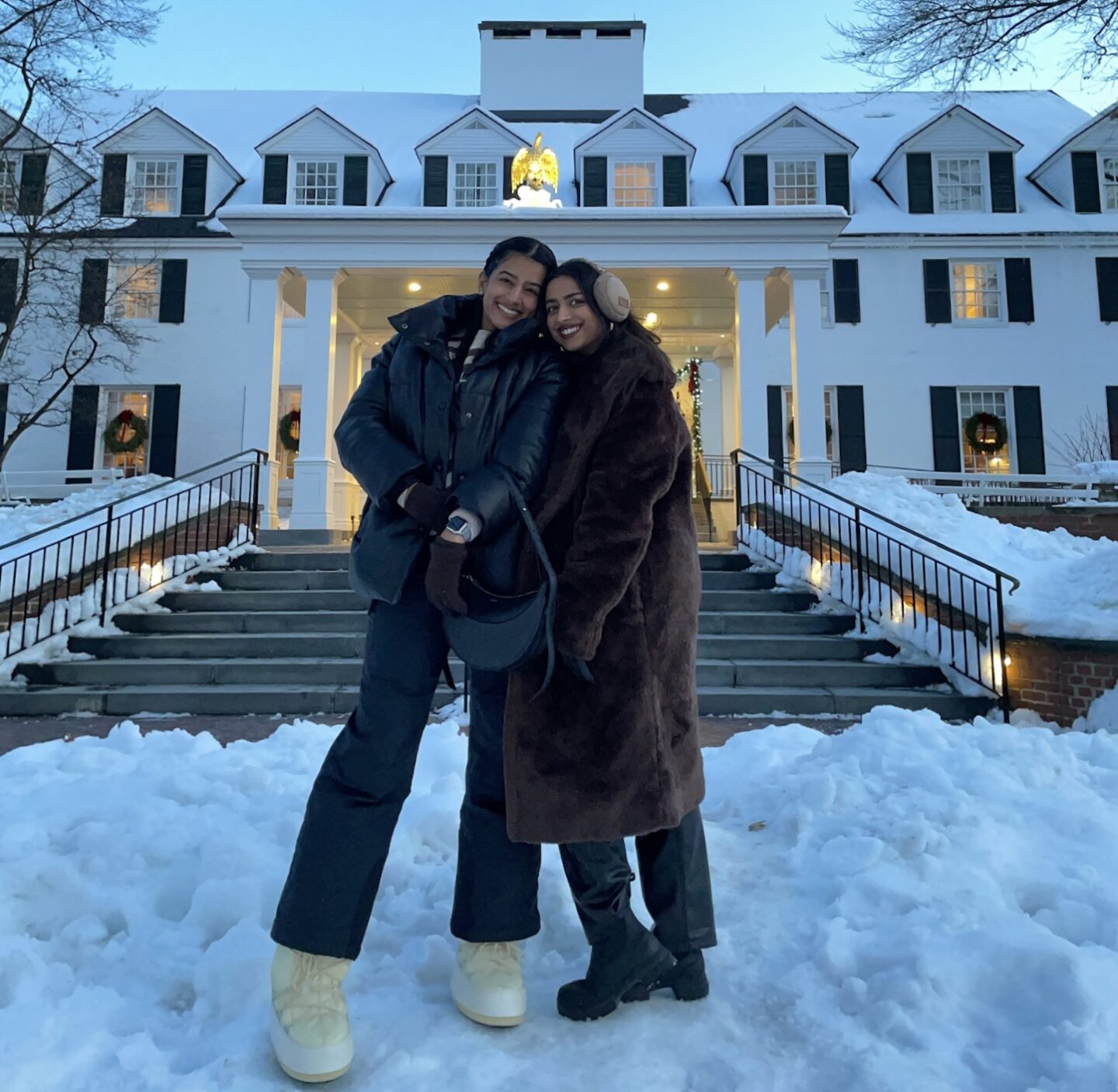 Getting There
Instead of flying, we took a road trip from NYC to Vermont. The journey was about 4 and half hours from New York to Vermont. Because both of us are from California, we wanted to explore the surrounding states. It was really great to pass through and see all the beautiful scenery. Several places were covered in snow and lined with trees. It looked like something out of a fairytale.
Richa and I also wanted to try out American Express' travel perks and this was our chance. With the points and money we saved on airfare, we were able to splurge on a luxurious hotel through the AmEx portal – which came with some great perks we'll get into later in this post.
To get on the road, Lexus gifted us a test drive of their LX600 ultra luxury SUV with full-time all-wheel drive. The car had leather interior, heated seats, and heated steering wheel (which was so crucial). We didn't get to try it, but the back seats even had their own TV screens. A full tank of gas took us the entire way which was really convenient.
We decided to split the driving time between the two of us. Richa and I actually switched every hour which was fun! For the most part, we were on the freeway. Just before getting to Woodstock, we drove through a residential area where the streets were pretty narrow and hadn't been cleared of snow like the other streets — the all-wheel drive was definitely essential here. If you're driving in and have the choice of a rental car, I would definitely recommend picking a vehicle with AWD during the winter season. Before leaving, we grabbed some coffee from our local coffee shop. Later that afternoon, we stopped in Hartford, Connecticut to get some lunch because of how early we left.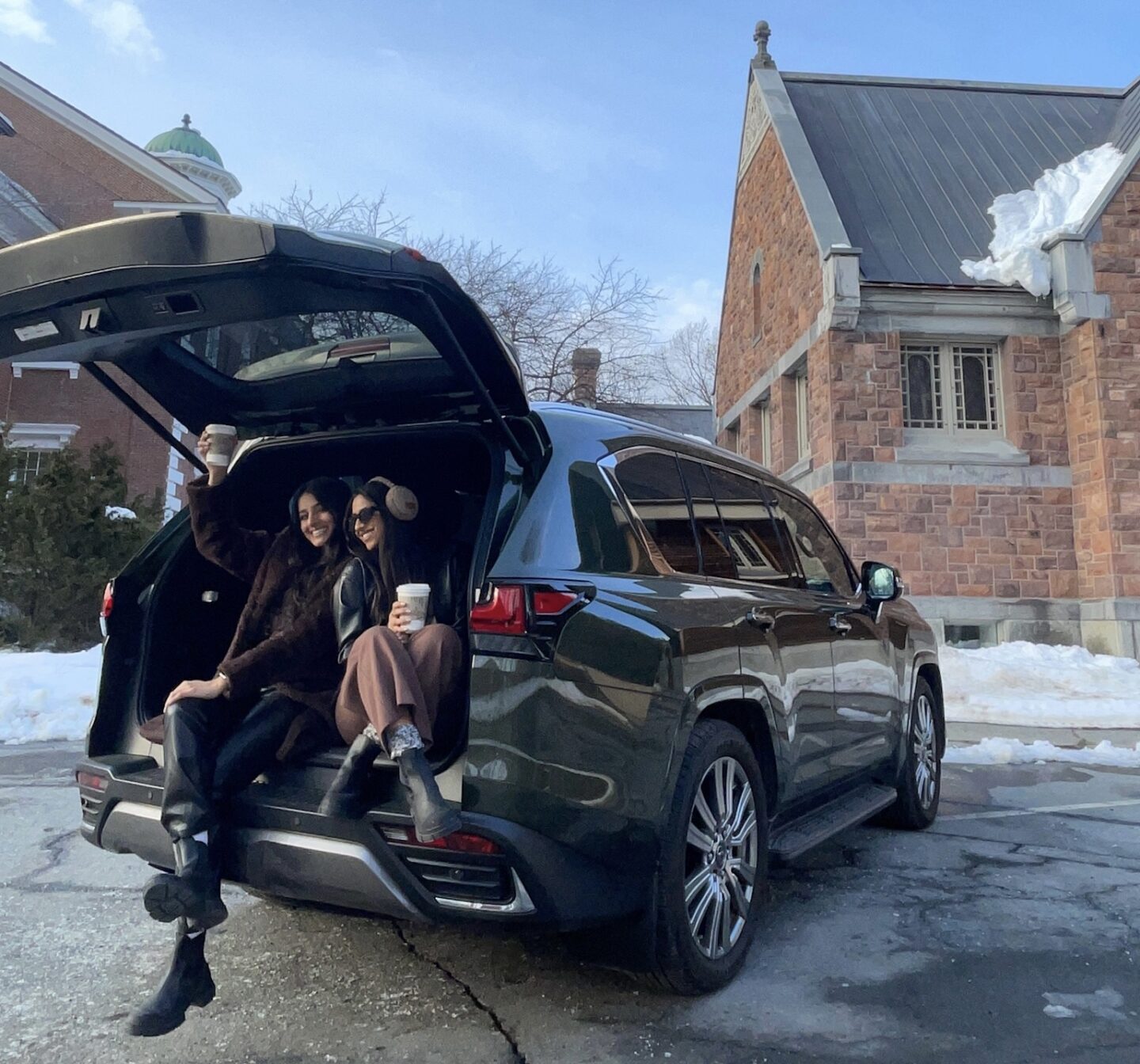 The Town
We chose to stay in Woodstock mainly because we wanted to stay at a particular resort in town.
The town was really cute. It's about only two streets. There were several historic houses that have plaques explaining their significance. They also had little candles in the window which we were initially confused about until we realized that they were historic sites.
We didn't get a chance to visit the museum about the family that founded Woodstock, but we got to walk around the town. Because the town is so small, walking around just to take everything in was really worth it!
The townspeople were so generous! Several people went out of their way to make sure we had a good time. The people there were very fond of their town and loved seeing visitors enjoying it, too. They would even stop and help us take pictures.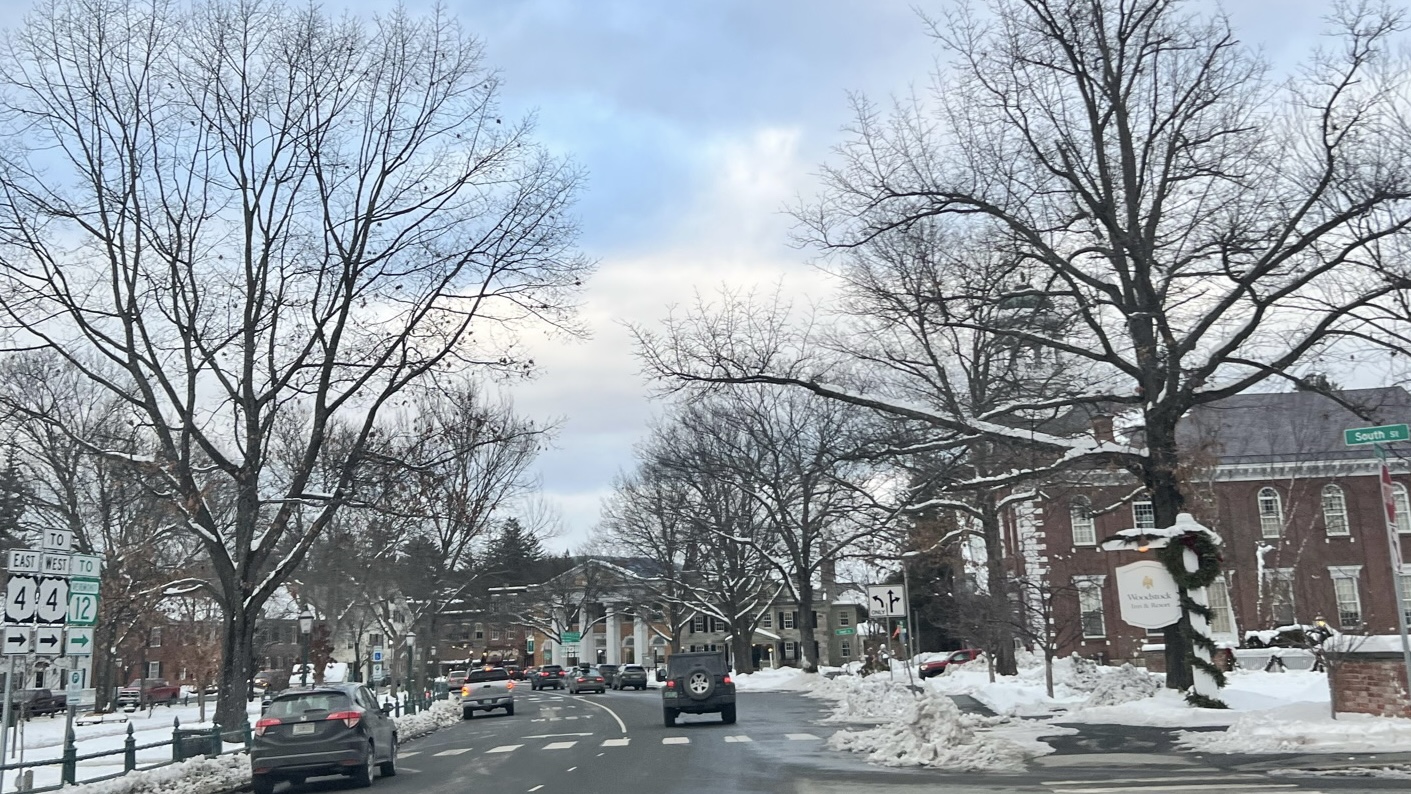 Where to stay
We booked through the American Express travel portal in the AMEX fine hotels and resorts collection. If you are a platinum cardholder, you get perks such as a $100 resort credit and free daily breakfast for two. The whole resort was booked out for a wedding so we weren't able to get a room upgrade, but there are usually upgrade opportunities with AMEX when available!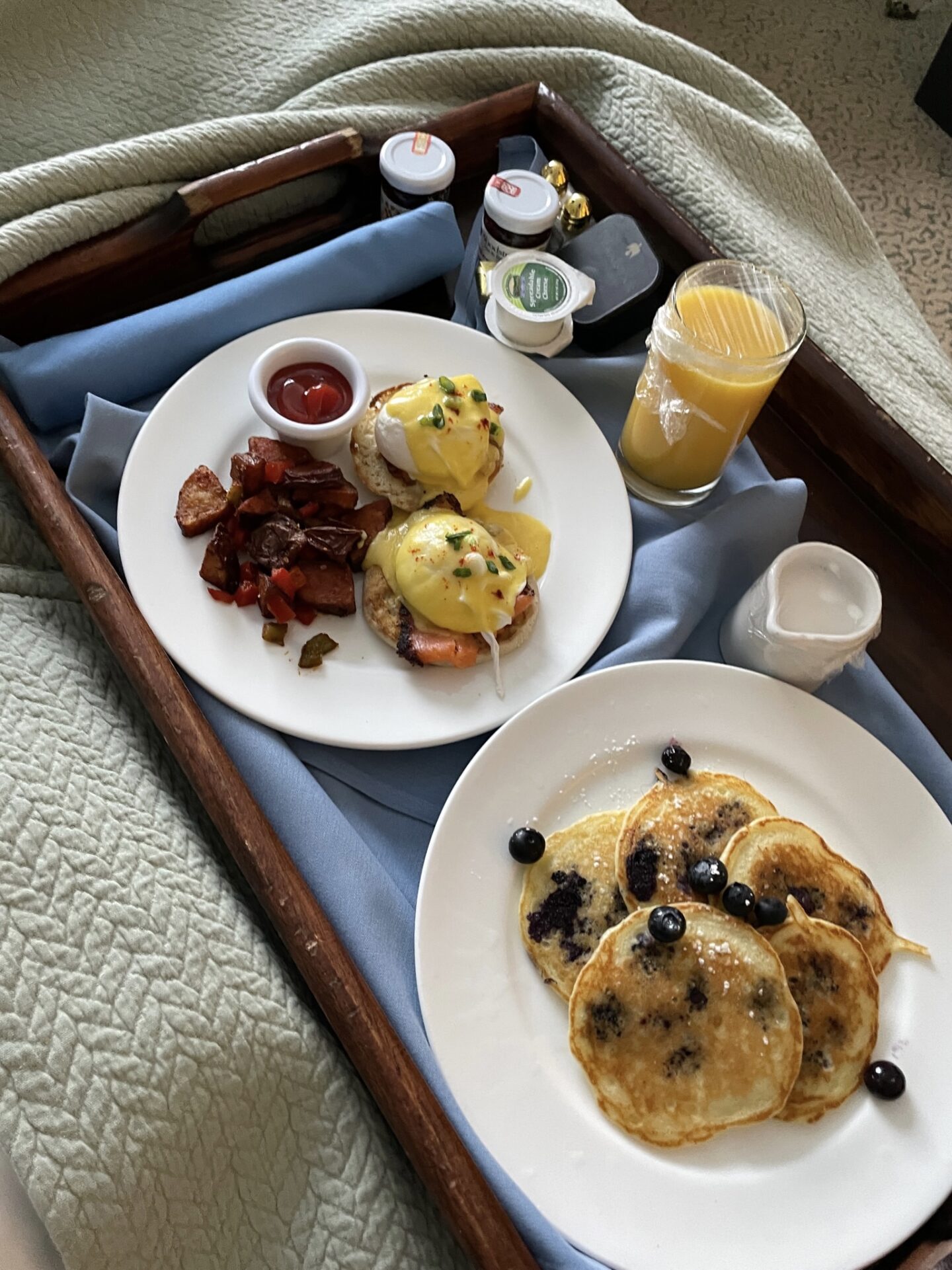 The hotel and staff were very accommodating. They even recommended that we book our dinner and spa reservations in advance to ensure we got the dates and times we were hoping for.
We opted for a King room. We didn't want to get double beds because of how small they were. The room looked like something out of Gilmore Girls. It was so cozy, yet upscale. Wood accents were everywhere which was very on-theme. The bathroom was really nice. The shower was very spacious and the products they provided were amazing.
Spa
Richa and I treated ourselves to the spa portion of our trip on the first day.
Before our treatments, we used the sauna and jacuzzi. There was no crowding, so the experience was very relaxing and peaceful. The jacuzzi was outdoors, but it wasn't uncomfortable. Because the jacuzzi was so warm, I wasn't cold even after I stepped out of it.
The massage suite was gigantic. My masseuse, Bridgette, was really sweet and attentive. When I asked her to focus on my right leg (pushing leg for skateboarding), she followed through without me having to reminder her during the session. During our consultation, she said she wanted me to walk away from the service believing that she was the best massage therapist I ever had — she definitely was!
Skiing
Of course, the most important part of the trip and our reason for going was the skiing! It was definitely a great experience.
Hotel guests are able to take a shuttle from the hotel grounds to the ski slopes. The gentlemen running the shuttle service waits in the lobby and makes sure everyone is accounted for before leaving. When you're on the mountain ready to leave, he'll go into the chalet and check all the common places (e.g., the rental area, the bar, the cafe) to make sure that everyone who wants to get picked up isn't left behind. He was very sweet and attentive.
The weather was super mild the day we went skiing. It had just snowed the night before, but it was still relatively warm and sunny. The powder was amazing! California and other areas along the west coast have had low precipitation in the last five years, so I can't truly compare the east coast's conditions to the west coast's current conditions. What I can say is that I really appreciated the lack of ice and packed down snow even on the high traffic green run!
It was incredible to get back out on the slopes! The energy on the hill was great. Lots of the people we spoke to were local and lived within 10 minutes of the area. It was a very family-friendly environment and not at all crowded.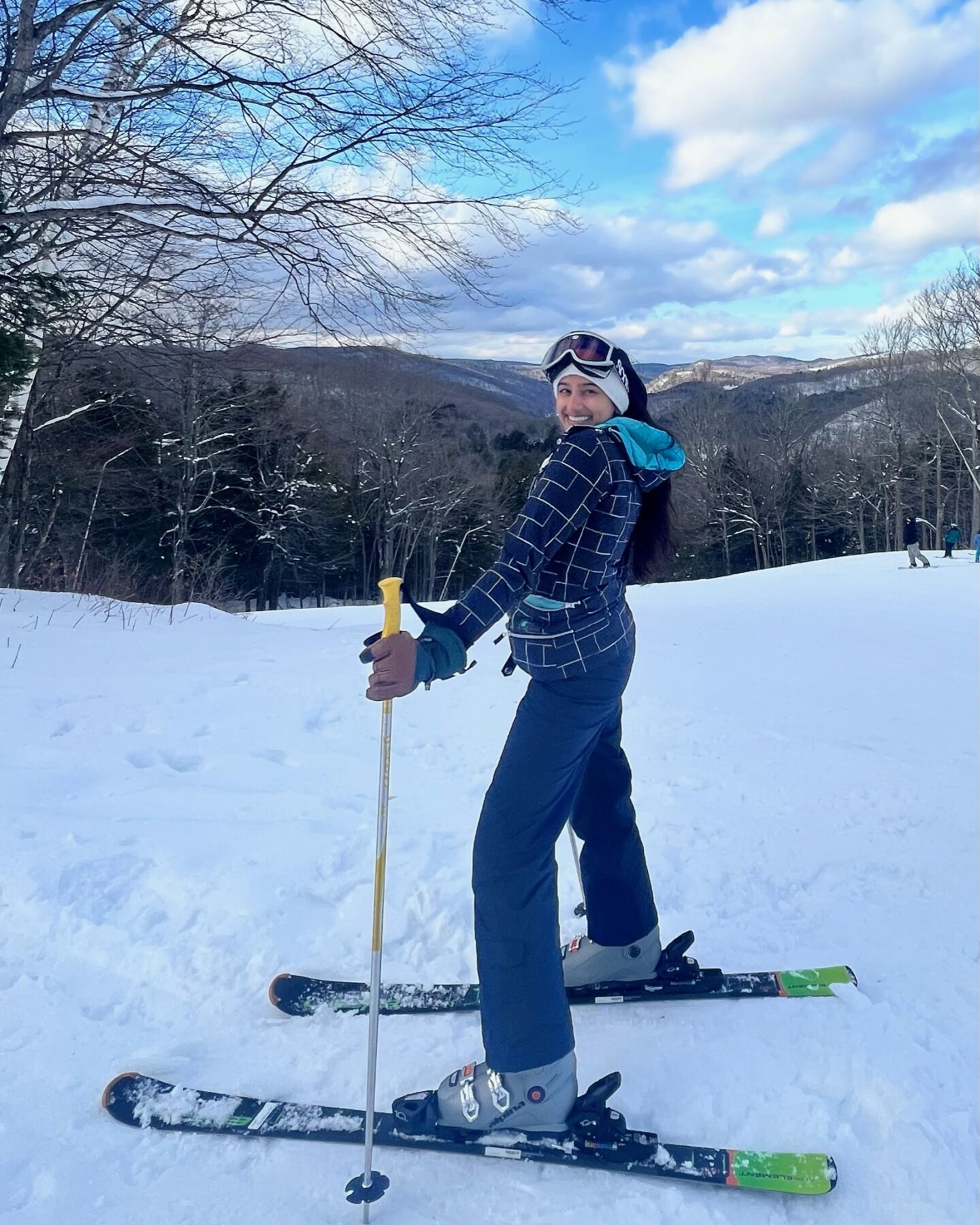 Dinners
Food is one of the most essential aspects of any trip and I'm happy to say that it did not disappoint! Richa and I had two dinners at two of the hotel's restaurants. We really got the most out of our experience by sharing every dish. On the first night, we went to Richardson's Tavern, where we had cheese fondue, french onion soup, and fries. The fries dipped in the fondue were so, so good. We also had cavatelli pasta but weren't as impressed by that. For wine, we had a bottle of Opus One which was a splurge but completely worth it!
On night two, we went to The Red Rooster. We had New England Oysters, the Vermont cheese board, and scallops. The scallops were insane, completely incredible. I honestly believe it is one of the best meals that I've ever had. We didn't have drinks at dinner because we went to a bar near the hotel. The bar was called Au Comptoir and they serve adorable apres ski cocktails. We had some of the specials, but the drinks were so good and the most memorable.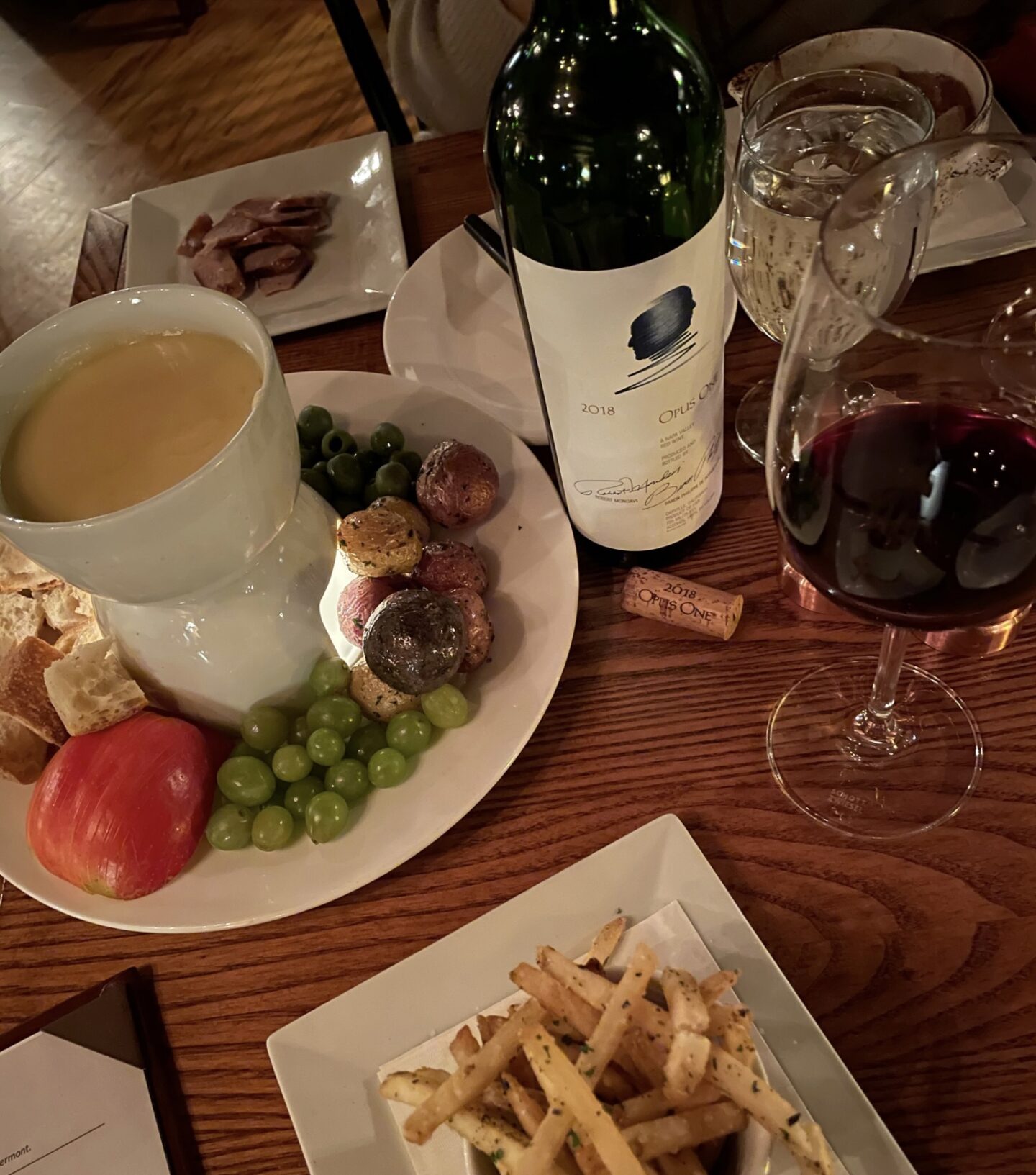 Lunches
We had lunch at the ski lodge on the day we actually went skiing. Lunch was pretty normal. I had an impossible burger while Richa had chili, fries, and a chicken sandwich. Overall, it was a solid meal. There was a bar at the ski lodge, so Richa ordered an Aperol spritz after we got destroyed by a blue run!
On the last day, we decided to go back to the seafood place with the delicious scallops. We shared a grilled cheese with tomato soup, blistered shishito peppers, and the Mediterranean platter. All of which were very good! For drinks, I had a prosecco and Richa enjoyed another Aperol spritz.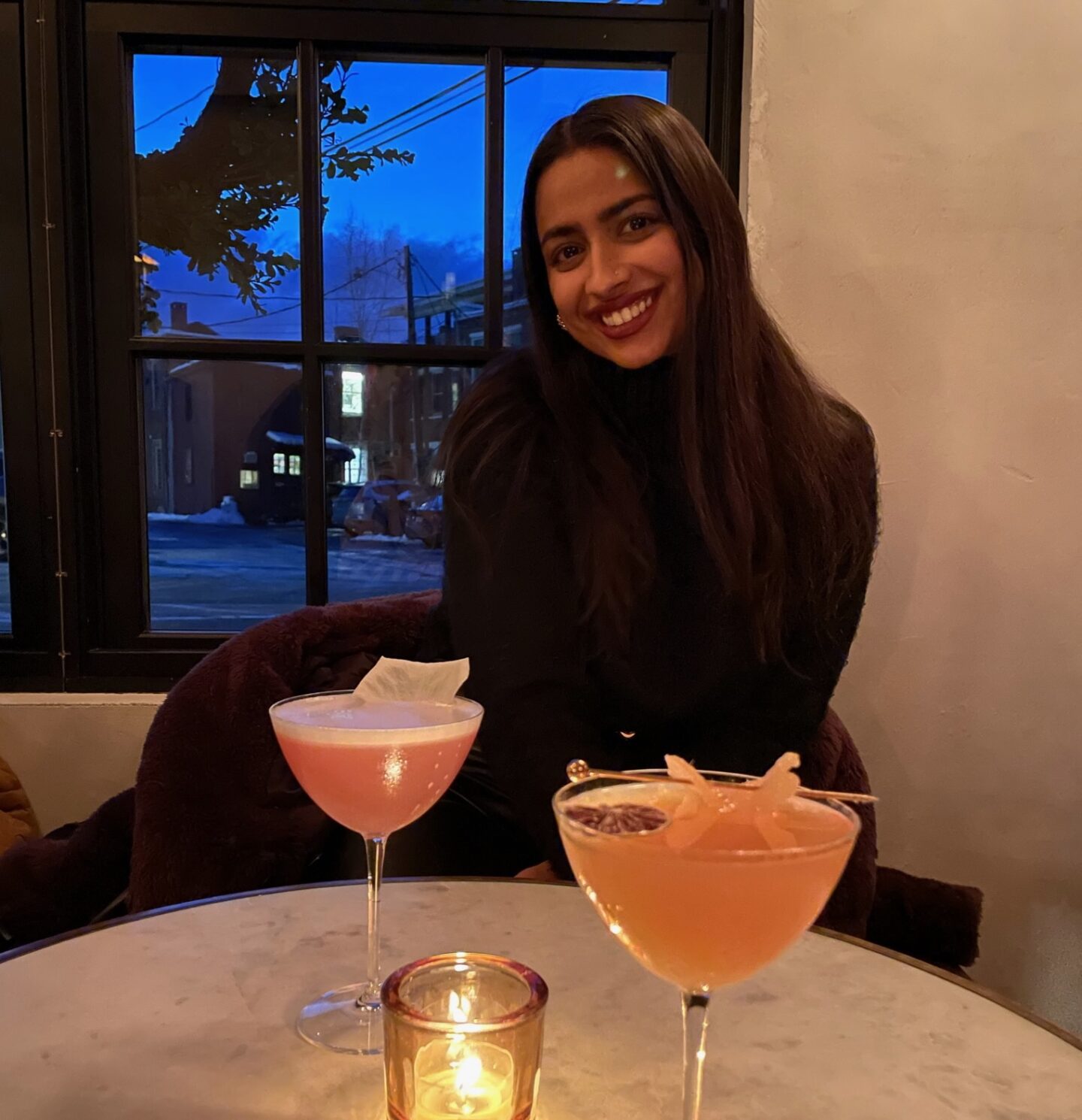 Have you visited Vermont or other ski towns on the East Coast? Tell me about your experience in the comments — let me know what tripes you'd like me to share my itinerary for next!