The holidays are among us and with this festive season comes gift giving. Whether you're buying a gift for a new girlfriend, or a girlfriend you've bought many gifts for in the past, gift giving can be downright confusing. When I go to buy someone a gift, I try to look for items that will either solve a problem in their life in a way that makes them feel extra special, or elevate an item they already own. I like to treat them to something that's a little fancier or more luxurious than they would buy themselves, while still fulfilling a wish in their life.
I've categorized this guide by specific interests and hobbies to help you find something best suit your girlfriend. I've also included a variety of price points for each category, anywhere from $5 to $100+.
Not everyone uses the term "girlfriend" for their partners, but I used it here because it best reflects my experience as a girlfriend who also has a girlfriend – and I did my best here to suggest items I've personally gotten or given as gifts!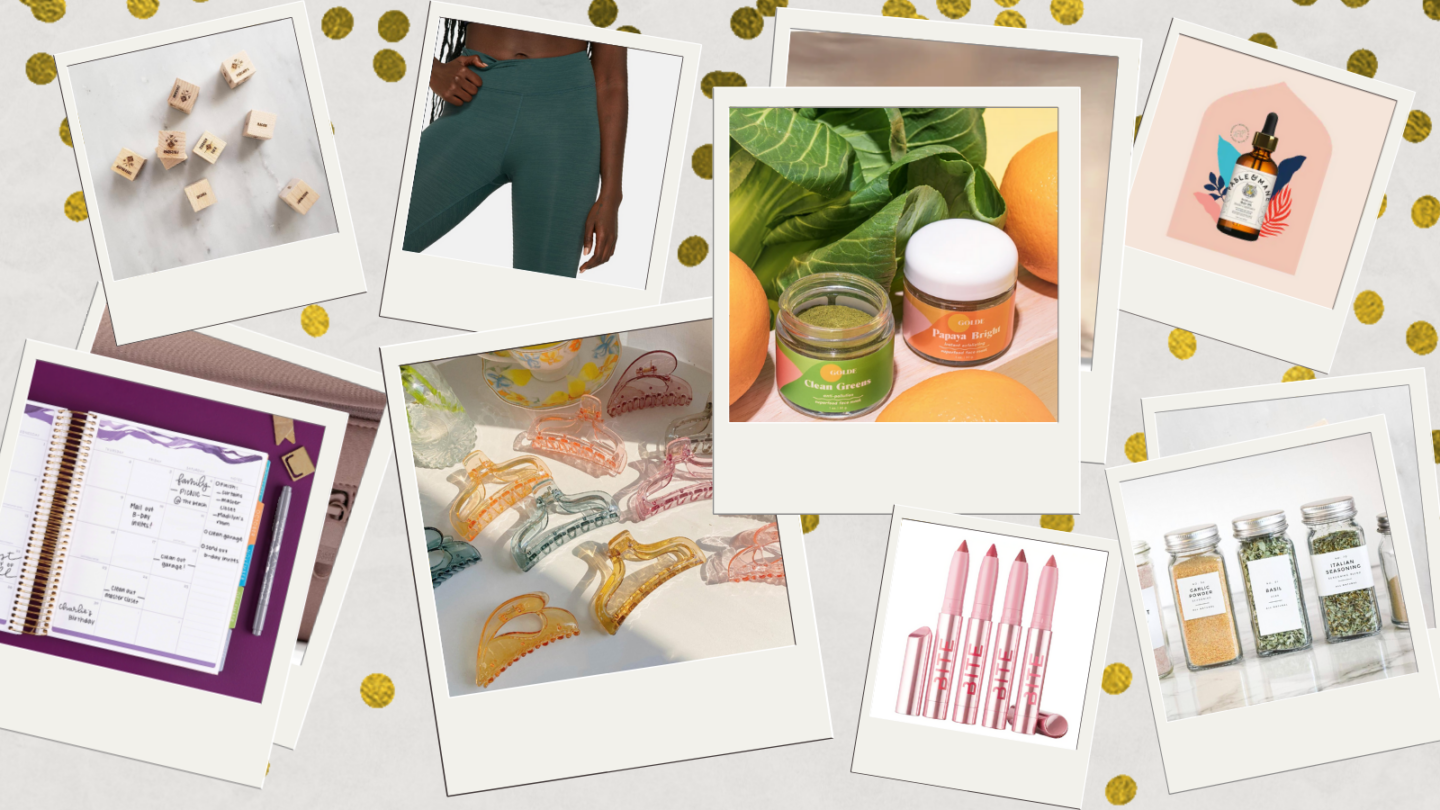 The low-maintenance girlfriend
This category is inspired by a cute article my partner found a couple years ago that described "chapstick lesbians" – lesbians who are not quite butch or femme, but are definitely obsessed with chapstick. We loved it because it described her perfectly – the girlfriend who's super practical and low maintenance, but still likes to look cute and put-together. So, these are all gifts I would get my partner.
I love the Bite Beauty Lip Products; their formulas are super creamy and great for on the go. I got their agave lip mask as a Christmas gift last year and I've been in love since!
· MILK MAKEUP KUSH Lip Scrub ($22)
· Bite Beauty Agave Vegan Lip Mask ($26)
· Bite Beauty Millennial Pinks 4-piece ($39)
Cooking girlfriend
We all love a cook! I highly recommend the Instant Pot, there's just so much you can do with it and there are many resources online to help. I've been pretty obsessed with mine since my partner got me one for an anniversary present this year. I also love Etsy finds for cooking gifts such as these foodie dice and this spice jar set.
· Foodie Dice ($33)
· Spice Jar Set ($60)
· Instant Pot ($140)
Curly girlfriend
If you know me, you know I'm the curly girlfriend! The Fable and Mane hair oil has become a new staple in my hair routine, it's also a South-Asian-owned brand from Sephora. Claw clips and silk pillow cases are great for curly-haired girls too.
· Acrylic Hair Clips ($6)
· Fable & Mane Hair Treatment Oil ($34)
· Pure Silk Pillow Case ($89-110)
Organized girlfriend
I'm an avid organizer, which is why I love the Erin Condren personalized planner. You get to choose the images for the cover, which I think is a great gift idea if you're looking to give something personal. My partner got me my custom planner for Christmas last year, and I was so excited to use it when the new year started. I use LePen products to color code my planner, and I used my iPad mini that I got as a gift many years ago to take notes in science classes that required drawing (like OChem!).
· LePen Pack ($20)
· Erin Condren Personalized Planner ($55)
· iPad Mini ($549)
Experimenting with gender expression girlfriend/partner
This year, my girlfriend shared with the world that she uses both she/her and he/him pronouns interchangeably. This has led to a very exciting exploratory time for him in which he's been experimenting more with clothing and accessories that make him feel affirmed in his gender fluidity. I chatted with my girlfriend – as well as some other close friends of mine who happen to be nonbinary or trans – and they told me about some items they've received as gifts that have made them over-the-moon happy. There are so many ways that different people express gender, so these ideas may not apply to everyone, but they may be a starting point!
The fun, colorful gender-neutral boxer briefs also happen to be from a Black-owned brand. The pronoun earrings are from a cute small business, and while they don't offer neopronouns, they do have some dual pronoun options available. A binder from Trans-owned store GC2B may be affirming for people who have expressed that they want to make their chest appear smaller.
· Gender-Neutral Boxer Briefs ($24)
· Pronoun Earrings ($30)
· Black Half Binder ($43)
On the go girlfriend
For the girlfriend who's super busy, a really great pair of wireless headphones or earphones are a must-have. Sufi, my partner recently got me a pair of wireless over the ear headphones and they really upped my work from home game. I get distracted easily, especially in New York with all the street noise, so I love having them for concentrating.
· Wireless Bluetooth Over Ear Headphones ($30)
· Wireless Bluetooth Earbuds ($50)
· AirPods ($159-199) or AirPods Pro ($250)
Photographer girlfriend
Sufi, my partner, is a photographer and has always wanted a neutral-density (ND) filter. It reduces the intensity of the colors and light in a photograph. They're a little pricey but a nice gift for someone who's really into photography. Also, Sufi and I love taking photos with film cameras, they turn out super cute and are a fun yet simple gift idea.
· Personalized Leather Camera Strap ($24)
· FujiFilm Disposable Camera ($33)
· Neutral Density Filter ($125)
Relaxation girlfriend
For the girlfriend who's been a lil stressed or just needs to relax, here are a couple ideas. I received the LUSH Relax kit in a secret santa gift exchange last year and I love how the products smell – I used them on special occasions throughout the year. My mom also recently got a heated weighted blanket and she loves it!
· CBD Bath Bombs* ($12)
· Plush Slippers ($30)
· Lush Relax Gift ($40)
· Heated Weighted Blanket ($80)
*It is your responsibility to ensure you are in compliance with your local legislation. CBD from hemp is widely available across the USA. In 2018, updates to the U.S. Farm Bill legalized the commercial cultivation of hemp under certain regulations. PureKana CBD products are sourced from American-grown, high-CBD industrial hemp.
Runner girlfriend
This category is inspired by my runner father and yes, I would totally buy him a coconut foot mask. I love Outdoor Voices for high quality running gear, their colors are beautiful too – I have a green sports bra and leggings set and my partner has yellow. Fanny packs are also useful for runners, and I personally like running with one myself on race days.
· Coconut foot mask ($5 each)
· Outdoor Voices Leggings ($62)
· Dagne Dover Ace Neoprene Fanny Pack ($85)
Skincare obsessed girlfriend
For the skincare obsessed girlfriend, I recommend skincare tools. If your girlfriend is into skincare I'm sure she's already got that skin routine dialed, so why not up her routine with some new tools like these Sephora facial cooling globes (alternative linked below because these sold out fast!) or the PMD facial cleaning device? Or, if you are looking to give a product, GOLDE is a Black-owned small business focused on superfood skincare. These masks look amazing and are on my personal holiday wish list.
· Facial Cooling Globes ($25)
· GOLDE Super Food Mask Kit ($60)
· PMD Clean Facial Cleaning Device ($99)
---
I hope this guide helped you find a gift or maybe helped you think of an idea for that special someone. Let me know in the comments below what your go-to gift ideas are! Happy holidays!
Some of the links above are affiliate links, which means that if you choose to click the link and make a purchase, I might make a small commission. This does not cost you anything, nor does affiliate eligibility ever influence what products I choose to write about. For more information on affiliate programs, please see the Affiliate Disclosure.