Growing up, I had dry skin and simply didn't care to fix it. I genuinely believed that it wasn't worth the extra time out of the shower to properly moisturize. Fast forward a few years to college, and I felt more than a little self conscious about my dry, scaly legs. It was then that I set out to find a body care routine that was equal parts hydrating and quick – I knew that if there were too many steps, my laziness would take over and I'd quit. While I found my perfect body wash and exfoliant years ago, I finally found my perfect moisturizer, and I'm so excited to share about it!
For context, the skin on my body is dry and fairly sensitive. Whenever I have an allergic reaction to something, it shows up as hives all over my body. Sometimes, my skin is sensitive enough to develop a rash because there's too much pressure on an area for some time – such as on my hip if a pair of pants is too tight. I also develop irritation around my ankles if it's too hot out or if I'm wearing a heavy moisturizer, and I struggle with "strawberry legs" or keratosis pilaris.
With that in mind, my body care routine had to be gentle and moisturizing without too many added fragrances. I tend towards plant based ingredients, because I feel that they don't trap heat on my skin the way petroleum-based products do. Keep reading for my three step routine with all my go-to products!
Note: I am neither a dermatologist nor an esthetician. The product recommendations in this article are solely based on my personal experiences. I encourage you to speak with a professional before trying new products, especially if you have existing skin conditions.
1. Dr. Bronner's Peppermint Castille Soap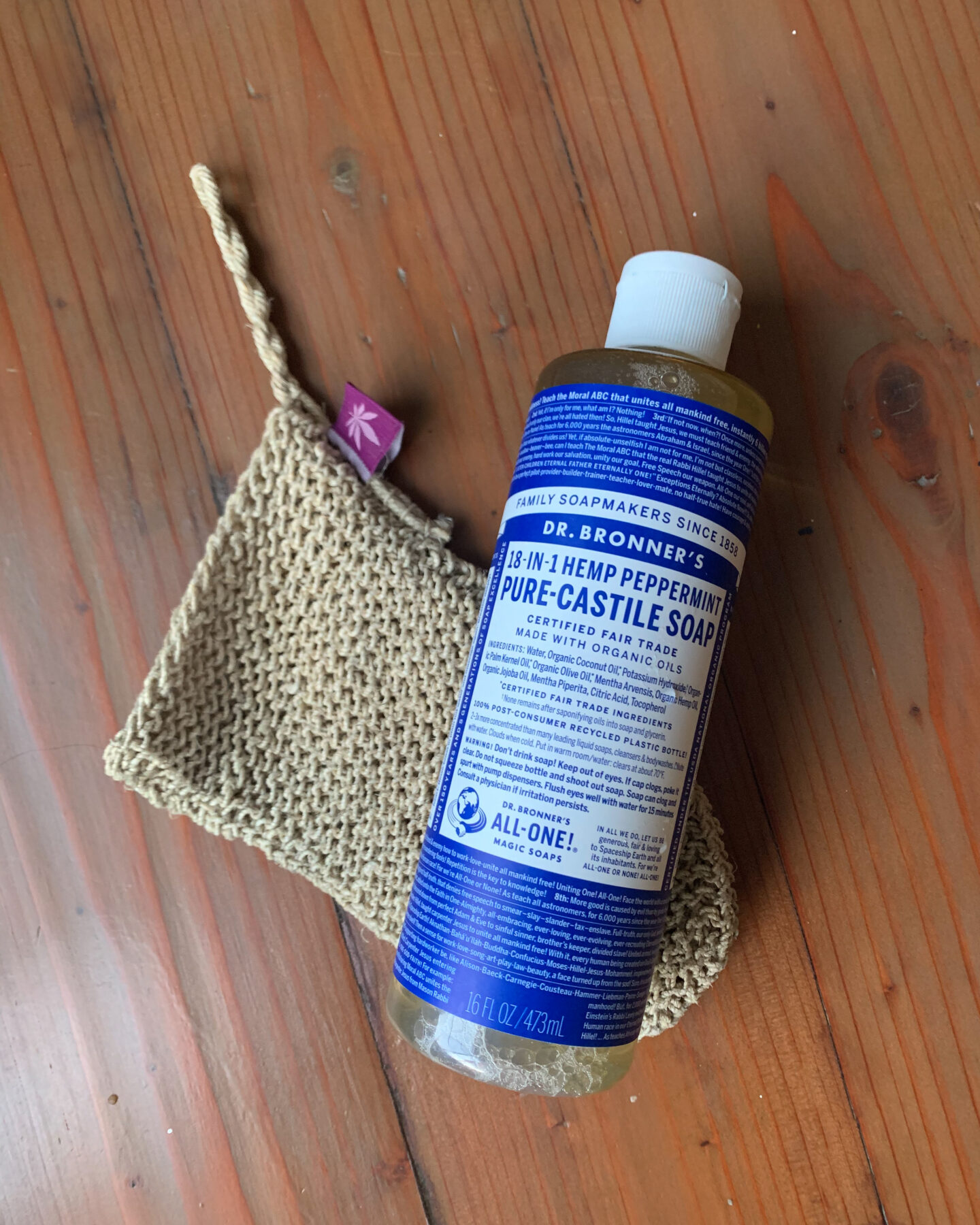 This has been my go-to body wash for years. The formula is gentle enough for my sensitive skin, and I feel clean after using it without feeling like my skin is dry or tight afterwards. The peppermint scent – created with peppermint essential oil – is my favorite, because the mint feels fresh and cool on my skin without irritating it. The product also comes in unscented, lavender, and orange scented varieties – among others!
I recommend this body wash to just about anyone who will listen, so my sister and a couple of my friends have also used it for years, and my partner started using it almost two years ago as well.
I usually get Dr. Bronner's Soap from Target, but it is also available on Amazon for my international readers.
2. The Body Shop Hemp Exfoliating Mitt
This exfoliating mitt has been my holy grail product for over 5 years. So much so that I've learned when all the sales happen at the Body Shop so that I can stock up on many at once.
To use it, I wear the mitt on one hand, apply a squeeze of my body wash to it, and use it to lather and exfoliate my body. Once I'm done, I thoroughly rinse the soap out of the mitt, and hang it from a hook in my shower so it dries completely between uses – this is important so my mitt stays clean. How frequently the mitt needs to be replaced depends on how often it's used and if it's well cared for, but I replace mine every 4-6 weeks.
This is another product that I've recommended to just about everyone I know, and I've convinced my partner and a few friends to start using them!
This product is sold exclusively at The Body Shop, but there are similar options available on Etsy as well!
3. byToni Naturals Body Butter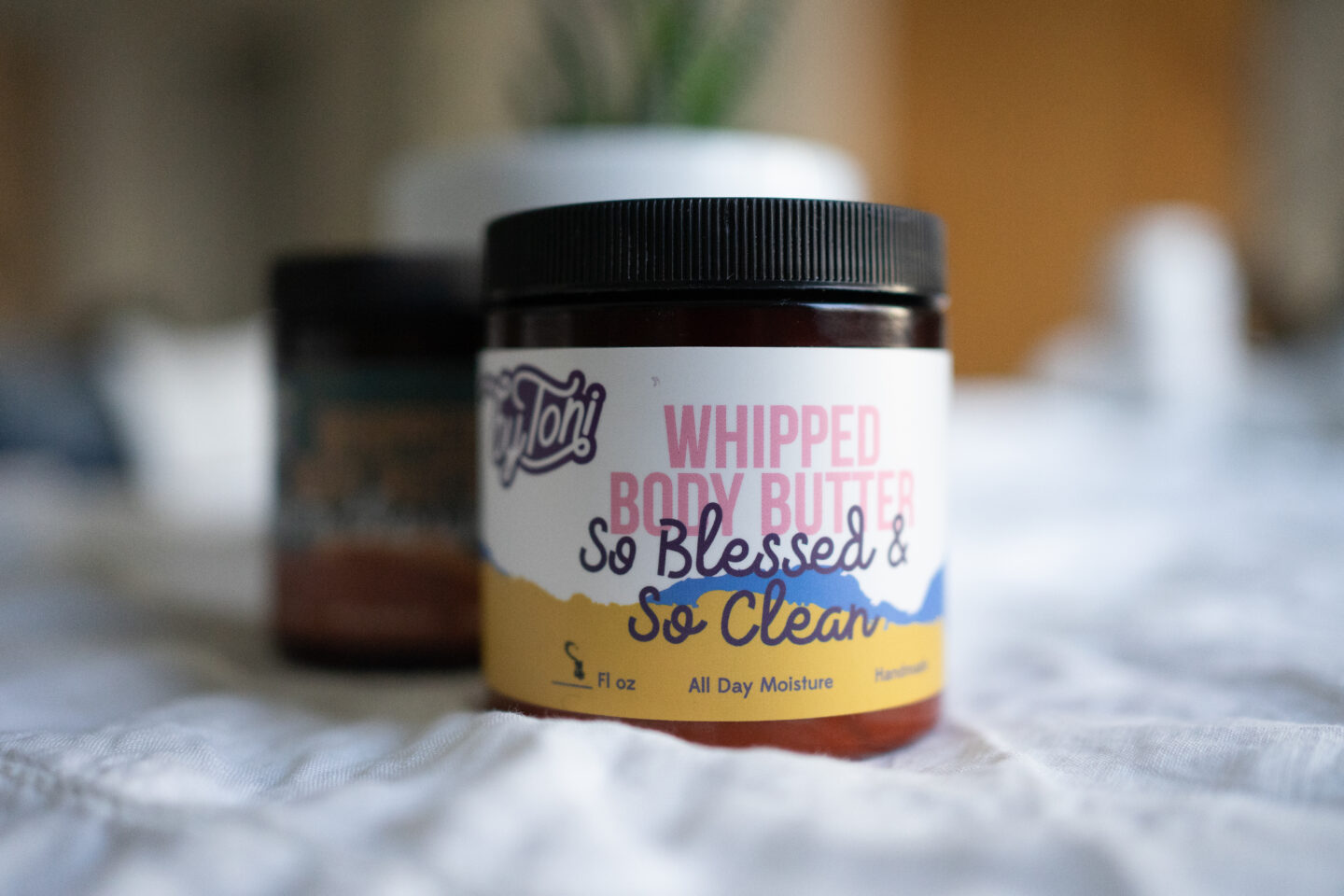 I've always gone out of my way to shop at small businesses whenever possible, but in the past few months I've taken that commitment a step further to prioritize shopping Black-owned. So naturally, when my lotion was running low, my first thought was to see if I could find a product from a Black-owned brand to replace it.
Someone recommended that I try the body butters from a brand called byToni Naturals, and I was drawn to the glowing testimonials all over her Instagram page. Toni created her products for her own skin after struggling with eczema. The products are all handmade, and come in four scents named for different songs Toni loves. She also runs her brand in a values-based way: every month she donates a portion of her profits to different causes. Most recently, she used 10% of her proceeds to purchase stamps from USPS, and donated them to Books Through Bars, a nonprofit that sends reading materials to people who are incarcerated. All that to say – you can imagine how excited I am to write about her brand!
I apply the body butter right after I get out of the shower – when I've toweled off, but my skin is still a little damp. I take a generous portion of the body butter and rub it between my hands so it melts, and spread it over my body. Within two minutes of application, my skin completely soaks up the formula – leaving no greasy residue behind. This is key for me because my next step in my routine – doing my makeup – takes place in my velvet desk chair, and any leftover residue would stain the upholstery.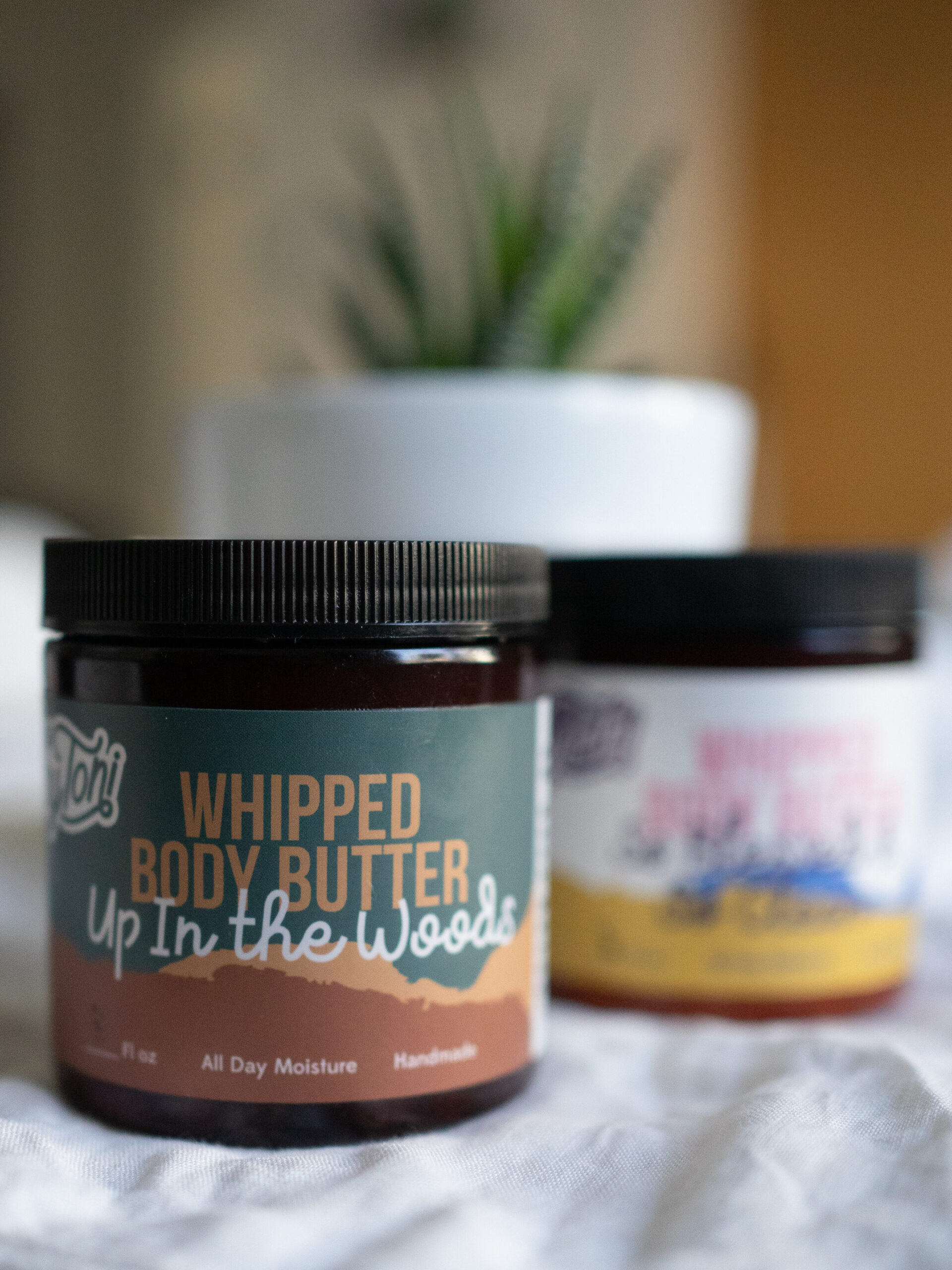 Over the last few weeks of use, I've noticed that my skin is softer than ever – and I get tons of compliments from my partner! More excitingly, I've noticed that my ingrowns have totally disappeared – which is huge for anyone with KP.
I ordered the "Up in the Woods" and "So Blessed & So Clean" and my partner loved the way the former smelled on me – I just ordered a large sized replacement container of it, and got a small container of the unscented butter to try as well!
Toni's products are available directly on her website.
---
That's really all there is to it – a simple, 3-step body care routine for soft, hydrated, and happy skin! I was so excited to find a moisturizer that not only works, but is also from a small business. If you try any of these products out, let me know in the comments below!
---
Some of the links above are affiliate links, which means that if you choose to click the link and make a purchase, I might make a small commission. This does not cost you anything, nor does affiliate eligibility ever influence what products I choose to write about.