For the past few years, Glossier has been one of my all-time favorite beauty brands. From their skin first, makeup second mantra to their affordable price point and simplistic aesthetic, I'm a bit obsessed! I also appreciate that their products are always shown on a variety of skin colors, which makes it that much easier for me to find good options for my complexion when shopping their products.
These five products are my absolute favorites, and they quickly became an essential part of my daily routine. They're quick and easy to apply, while enhancing my natural features, giving me that "no makeup, makeup" look. I can't help but stock up on them every time I visit a Glossier store or shop online. With Black Friday coming up – Glossier's only sale of the year – everything will be 25% off, and sets will be 35% off. If you've been considering trying some new products or stocking up on the classics, this the perfect time to do it.
EDIT: after publication of this post, some readers brought my attention to a collective of former Glossier employees that refer to themselves as "Outta The Gloss". OTG wrote an open letter to Glossier demanding that they address incidents of harm to BIPOC employees, which Glossier has yet to do. To learn more about what their demands are and make an informed decision before shopping, I encourage you to check out Outta The Gloss here.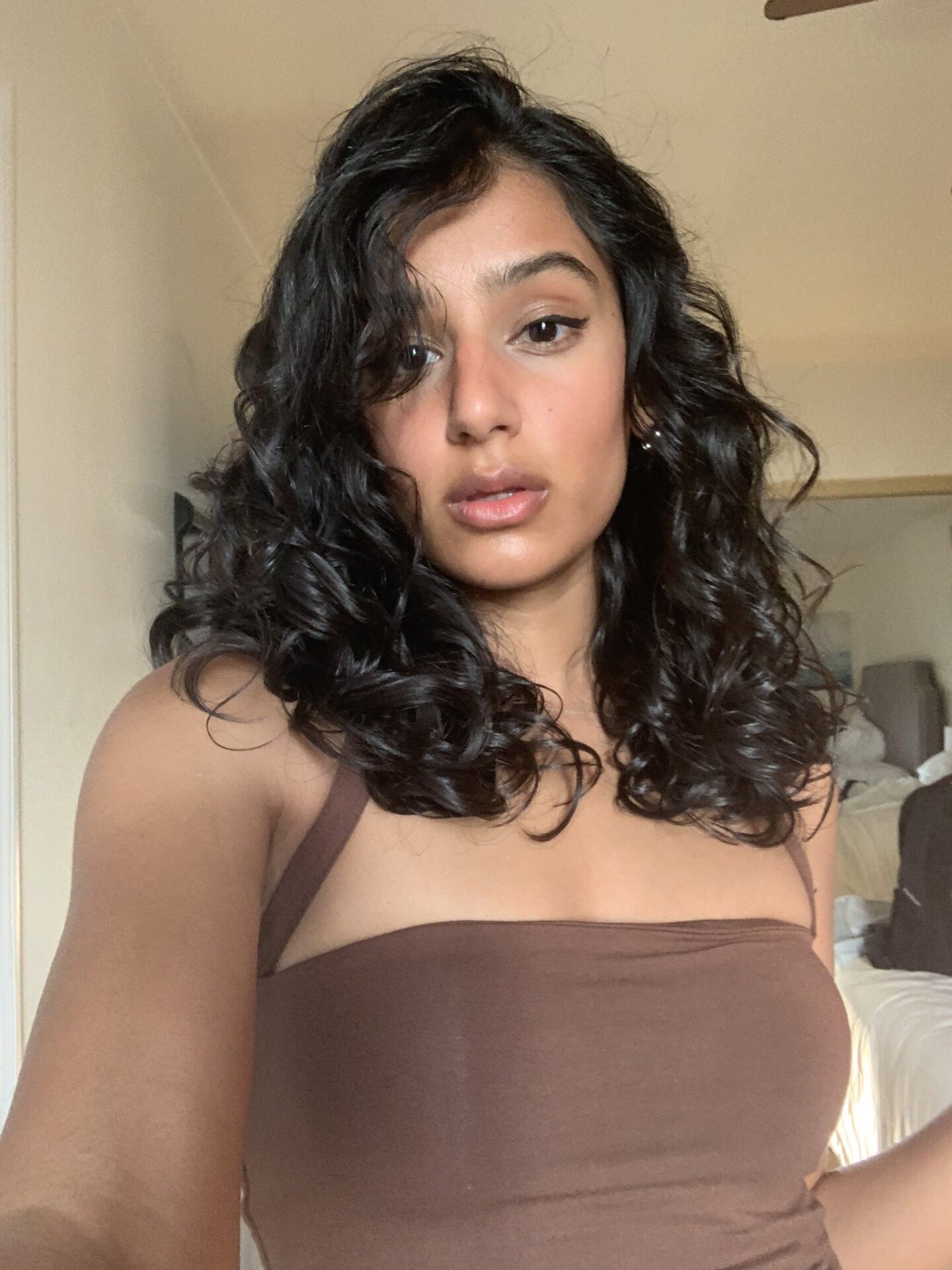 1. Balm Dotcom
This is my miracle product, and I carry one everywhere I go. You know how some lip products seem to make your lips ten times more chapped when you stop using them? Balm dotcom is not like that at all! If I stop using it for a couple days, my lips are still soft and moisturized regardless, because it's formulated with heavy-duty moisturizers like Castor Oil and Beeswax. The original flavor doubles as a skin salve, which means you can use it anywhere on your body. Personally, I prefer the cherry flavor, it has a subtle red tint that enhances the natural color of my lips. My partner Sufi is all about the mango, it tastes delicious and the peachy rose-colored tint is both subtle and pretty.
You can find Balm dotcom on the Glossier website here, or save a little and get the trio here.
2. Boy Brow
A cult favorite, the beloved Boy Brow is next on my list. I've always loved this product but have found it especially useful in recent months, since I haven't been able to get my brows done. It keeps the unruly parts in place and the thinner parts filled, for a fuller, more even look. I like using the brown color to thicken my brows (the black is a bit too intense for me). Sufi prefers the clear, as she has fuller brows but struggles to keep them tamed and in place. Also, I recently learned that Boy Brow contains ingredients like collagen that are supposed to condition and moisturize your brows, which I love.
You can purchase Boy Brow from the Glossier website here.
3. Cloud Paint
I can honestly say I never knew I'd get so much satisfaction from a liquid, gel-cream blush. This product is buildable and easy to apply: I use my finger or a makeup sponge and it sinks right into my skin. Their site calls it a "flushed-from-within-glow" and I couldn't agree more. You know how powdered blush tends to sit on top of your skin, especially if you have those fine vellus hairs? This product fixes that issue! I use the shade beam, a soft peachy color for the daytime. And I use the shade storm, a deeper berry color for a more dramatic, evening look or for photoshoots.
Cloud Paint can be purchased from Glossier online here.
4. Generation G
Generation G is a sheer lipstick that creates an effortless natural lip color. It's ideal for on the go because I don't need a mirror to apply it, unlike other lipsticks. I love the shade Jam – in my opinion, a universal brown-girl shade – which has a deep berry colour that looks amazing on deeper skin tones. My other go-to shade is Leo, it's a neutral brown and quite frankly the nude lipstick color I've always longed for. It's not too light and doesn't remove the pigment from lips, when I wear it I feel chic and cool.
You can purchase Generation G on the Glossier website here.
5. Invisible Shield
If you've read my skincare routine post, you already know that the Invisible Shield sunscreen is an essential part of my daily skincare routine. It's transparent so it doesn't leave a white cast on your skin, which is ideal for people with darker skin tones like myself. It also gives a natural glow, but doesn't feel greasy like some mineral sunscreens. I used to always forget to wear sunscreen, so this definitely upped my sunscreen game – I seriously look forward to wearing it every day.
Invisible Shield is available on the Glossier website here.
---
I hope you guys enjoyed this blog post! I always love to see what you guys are loving too, so make sure to leave a comment below of your favorite Glossier products. Also, curious to know how you pronounce Glossier, Glossy-er or Gloss-y-yay?
Some of the links above are affiliate links, which means that if you choose to click the link and make a purchase, I might make a small commission. This does not cost you anything, nor does affiliate eligibility ever influence what products I choose to write about. For more information on affiliate programs, please see the Affiliate Disclosure.