A few weeks ago, my girlfriend Sufi and I shared our skincare routine on YouTube. I thought I'd take some time to do a deeper dive into our nighttime routine and talk about the benefits of the products we use.
*Note that I'm neither a dermatologist or an esthetician, but I'm just sharing what works for me. Please check in with your provider before adopting any of these products into your routine.*
I love this routine because it minimizes my fine lines and hyperpigmentation. I also struggle with texture, especially on my forehead, so I love exfoliating regularly. Since starting this routine, I've noticed that my skin texture is even, I don't get breakouts around my hairline anymore, and my skin is the same tone throughout.
1. Naturopathica Manuka Honey Cleansing Balm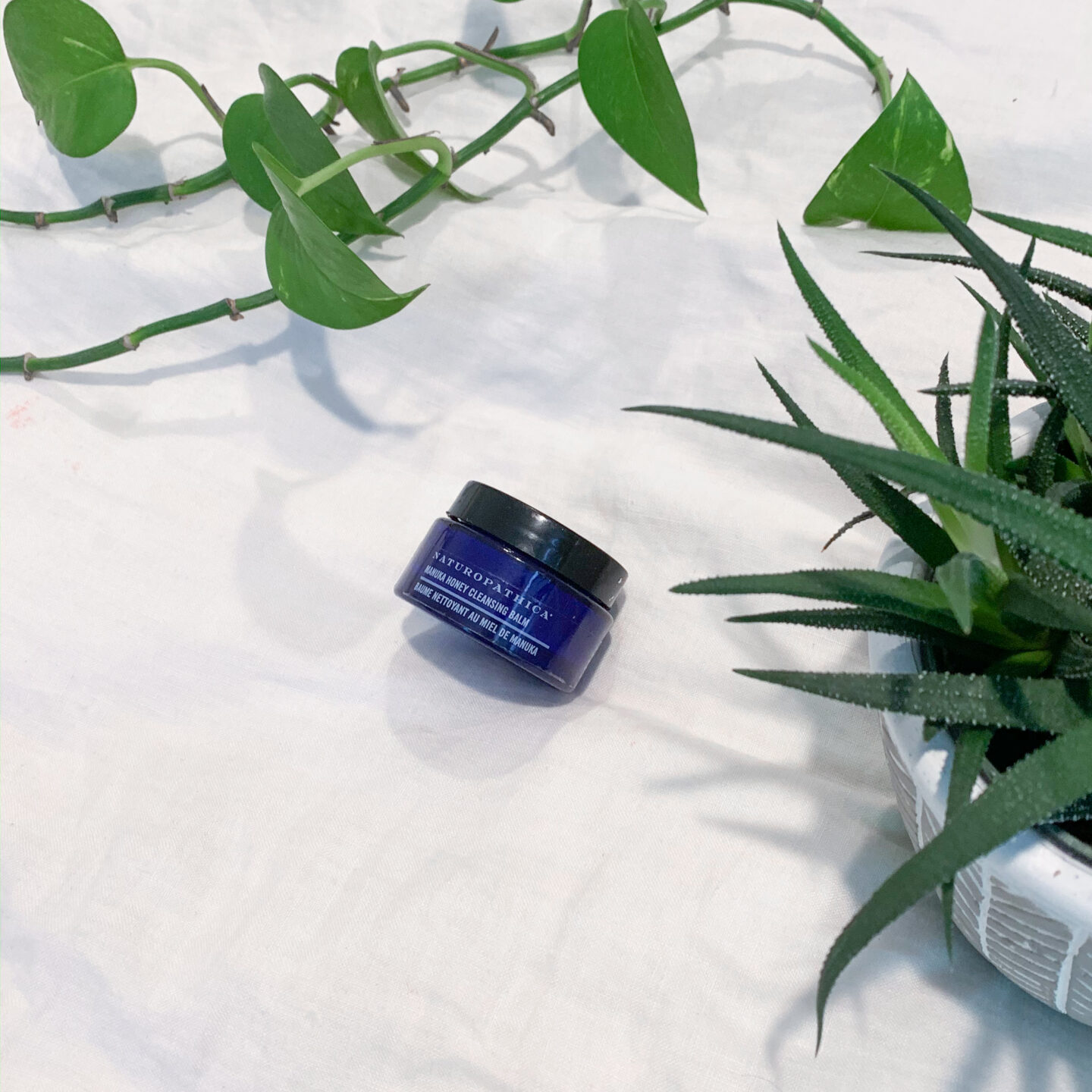 This balm is so gentle, but it dissolves my makeup right away, making it one of my favorite discoveries in the skincare department. When I use it, my eye makeup comes off without rubbing or tugging on my skin the way makeup wipes do. Cleansing using an oil-based product like this one is a very popular first step in Korean beauty routines. It serves as a gentle way to remove oil-based products and grime without drying the skin out the way soaps do. I've noticed this myself – whenever I start my routine with this product, my skin is left soft and smooth.
I use this in the evenings, whenever I wear makeup. You can find this product here, and the half-size version here.
2. LUSH Herbalism Cleanser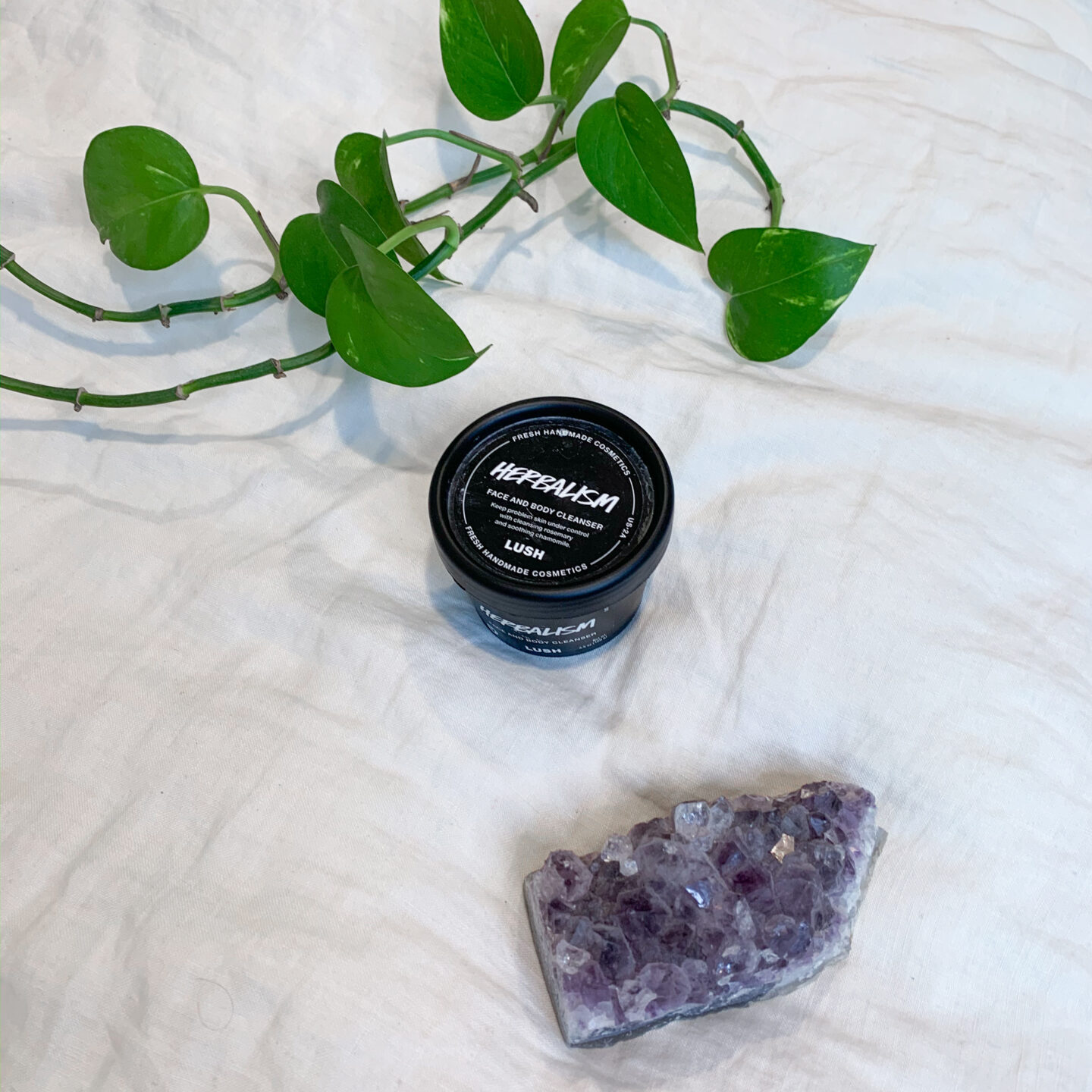 This cleanser is a gentle exfoliating cleanser with a Kaolin clay base. Kaolin clay is known as a very gentle clay, because it is much less absorbent than other types of clay like Bentonite, so it is less likely to totally strip the skin of its moisture. It's also got a slightly acidic pH, which is closer to the natural pH of the skin. I love that it's gentle and doesn't leave my skin feeling tight and dry after use as many soap-style cleansers do.

I use this daily, in the evenings only. This product is available in-store, or online here.
3. LUSH Ocean Salt Scrub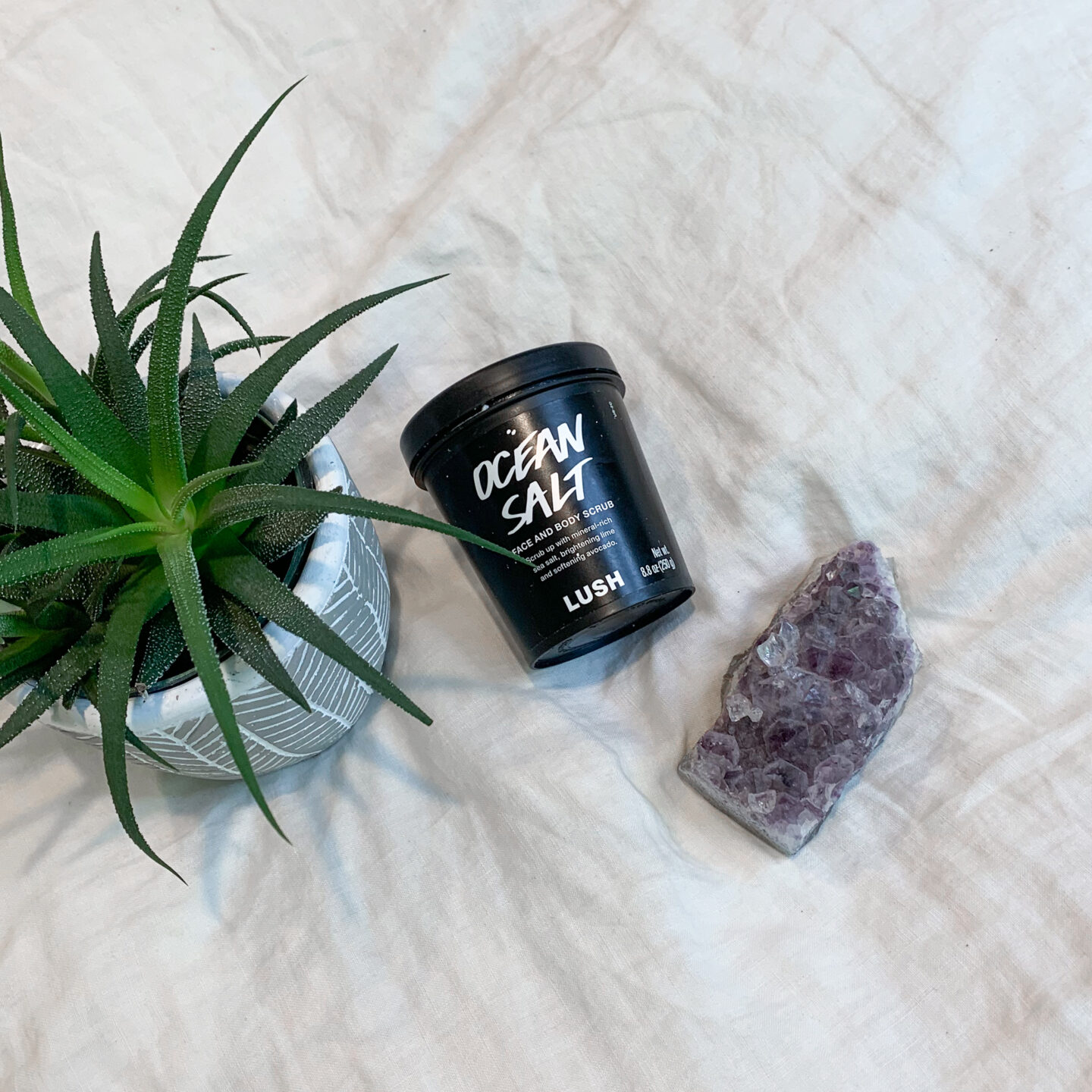 This scrub is definitely on the harsher side, so proceed with caution if you have sensitive skin. I've been using this sea salt based scrub for years, and nothing exfoliates my face as well as this does. I struggle with texture on my nose and forehead, and after using this scrub, my complexion is brighter and more even. Physical exfoliants and scrubs have recently been rejected by the skincare community for being too hard on the skin, so this product may not be right for you!

I use this scrub once or twice per week, in the evenings. Note that we use the fine grain version of this scrub, which can be found in-store or online here.
4. LUSH Breath of Fresh Air Toner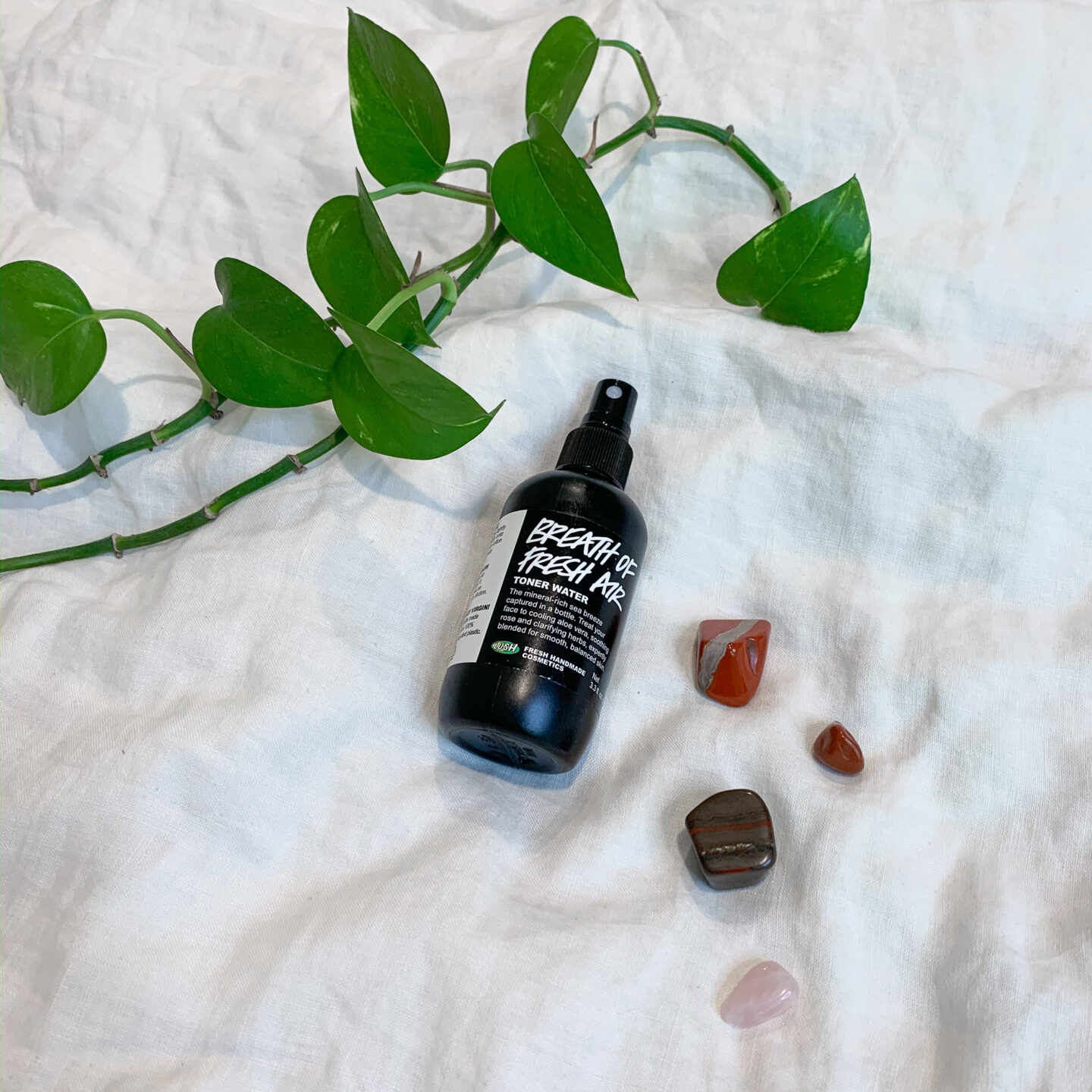 This is a simple, no-nonsense toner that gets the job done. I love that it has aloe vera gel in it, which hydrates my skin while bringing its pH back to normal. I spray this product directly onto my skin, and then use my clean fingers to gently work it into my skin.

I use this toner every time I cleanse my face. This product can be found in-store or online here.
5. Mad Hippie Exfoliating Serum
This serum is such a gem. I've been using it for three months, but only recently realized I wasn't using it properly! The bottle advises to leave this gentle exfoliating serum on for 10 minutes before applying any additional products, and when I started allowing enough time to do so, I noticed even better results right away. Not only does it give me that "glow" I was looking for, but I think it helps the rest of my skincare products absorb into my skin by exfoliating the dead skin cells off.

I use this product daily. This product can be found here.
6. SOMA Ayurvedics Vitamin C serum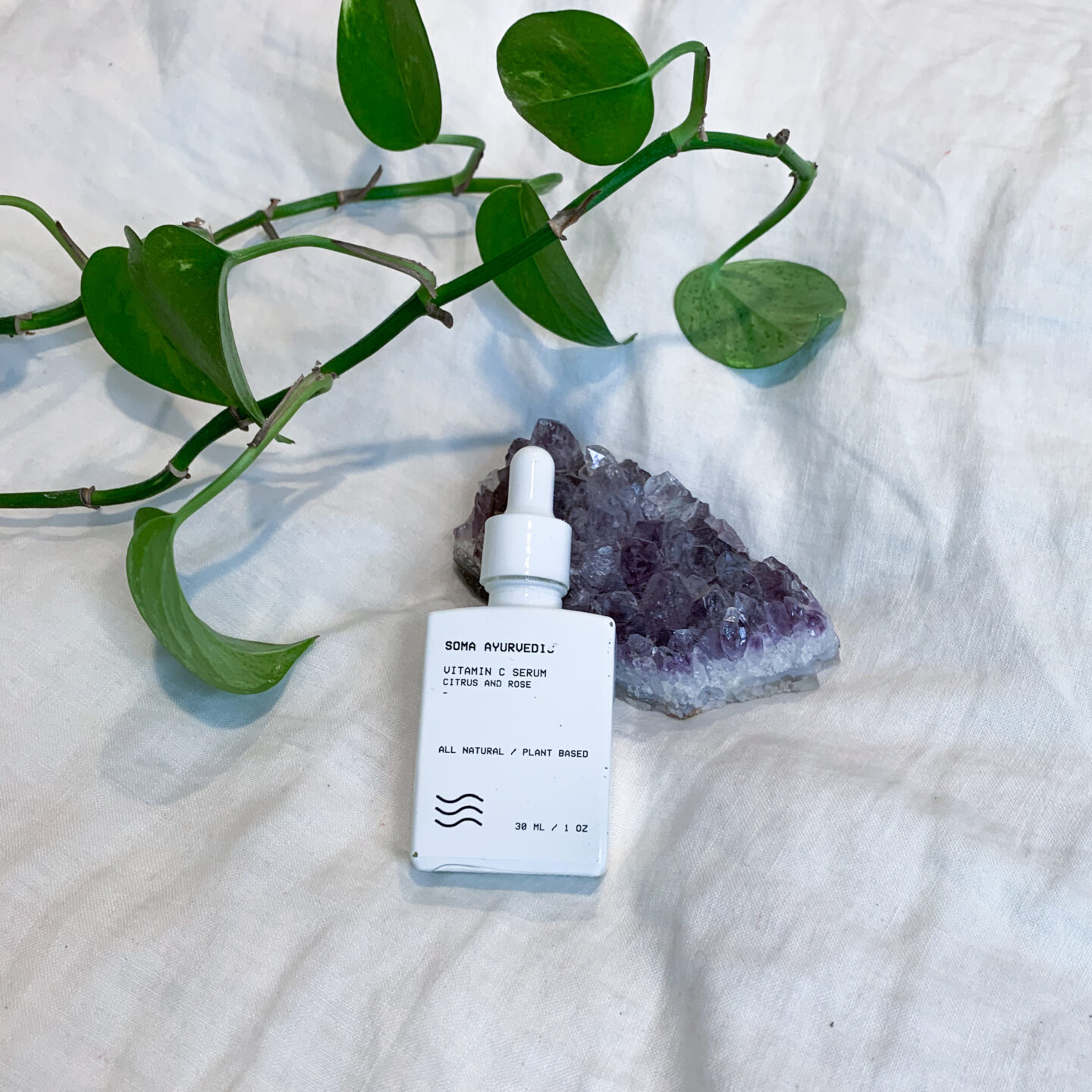 I'd been hearing about the benefits of vitamin C products for ages before I finally tried it out. Vitamin C is an antioxidant, which means it neutralizes free radicals, molecules that wreak havoc on your skin and other internal organs. Vitamin C is also known to help reduce the appearance of hyperpigmentation and scarring, and this serum totally delivered. It's formulated with so few and pure ingredients, that I know my skin is getting the best treatment with it.

I use this product every night. This product is available on the SOMA Ayurvedics website here. Use the affiliate code "ANJALISUFI" for 20% off your order!
7. Mad Hippie Triple C Night Cream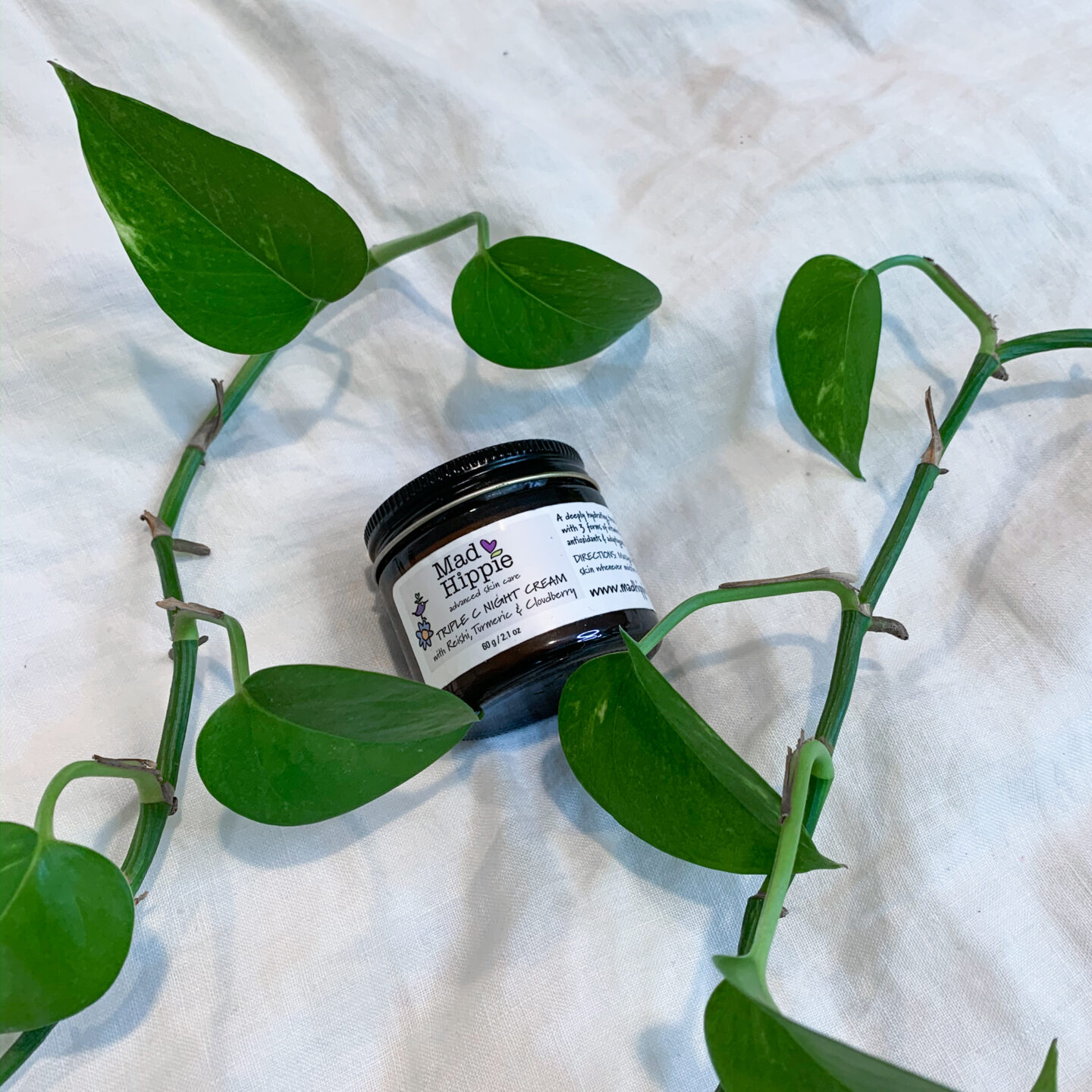 This product promises that its 3 different forms of vitamin C will help fade fine lines while brightening and hydrating the skin. From what I've seen, it makes good on what it promises – the fine lines I have around my mouth and on my forehead have significantly reduced. When I use this moisturizer, I always wake up with skin that feels hydrated.
I wear this moisturizer every night. You can find this cream online here.
8. SOMA Ayurvedics Under Eye Gel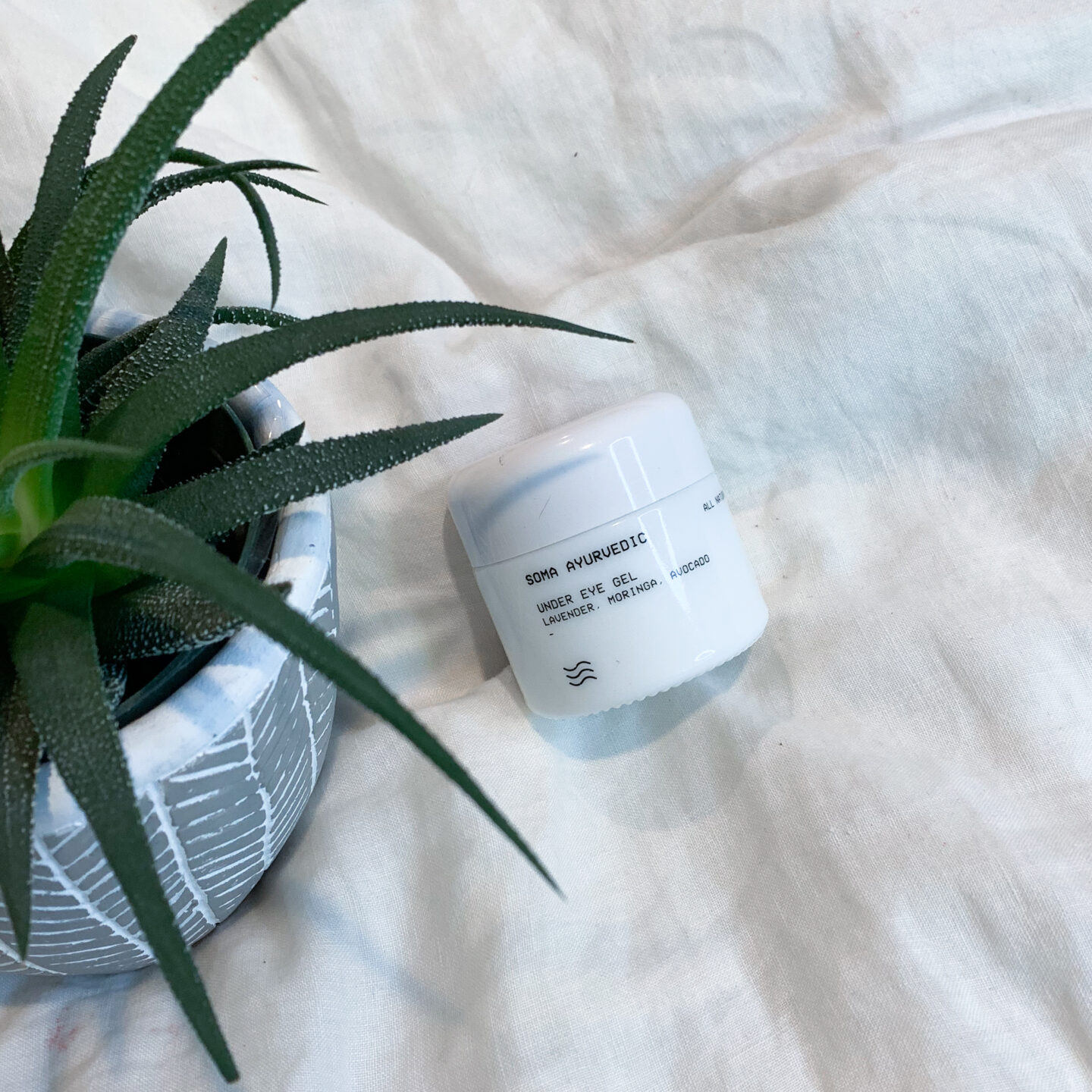 Sufi and I both have fairly dark under eye circles – it's a common trait in South-Asian women. This aloe-vera based product combines multiple naturally-derived extracts to produce a clear gel. I put this all over my undereyes, the sides of my eyes, and my eyelids. So far, I've seen a reduction in the depth of my under eye circles, and an improvement in the color.

I put this product on every night. This product is available on the SOMA Ayurvedics website here. Use the affiliate code "ANJALISUFI" for 20% off your order!
---
Do you use any of the products on this list? Let me know your thoughts in the comments below.
Check out the full details of our daytime skincare routine here.
Please note that none of the above products are sponsored – I included them because I truly love and use them every day. Some of the above links are affiliate links.