Farmacy Beauty's "Green Clean" cleanser + makeup remover balm
The "Green Clean" cleanser is Farmacy Beauty's "best-selling, award-winning makeup remover balm and face cleanser in one." Cleansing balms are creamy, oil-based cleansers that gently effectively remove makeup, sunscreen, and other impurities.
This cleanser is incredibly gentle on my skin! It makes removing my makeup really easy and simple which I love. The balm emulsifies when combined with water which means there is no oily residue left behind after rinsing. This has been a great replacement for my makeup wipes which were much harsher on my skin.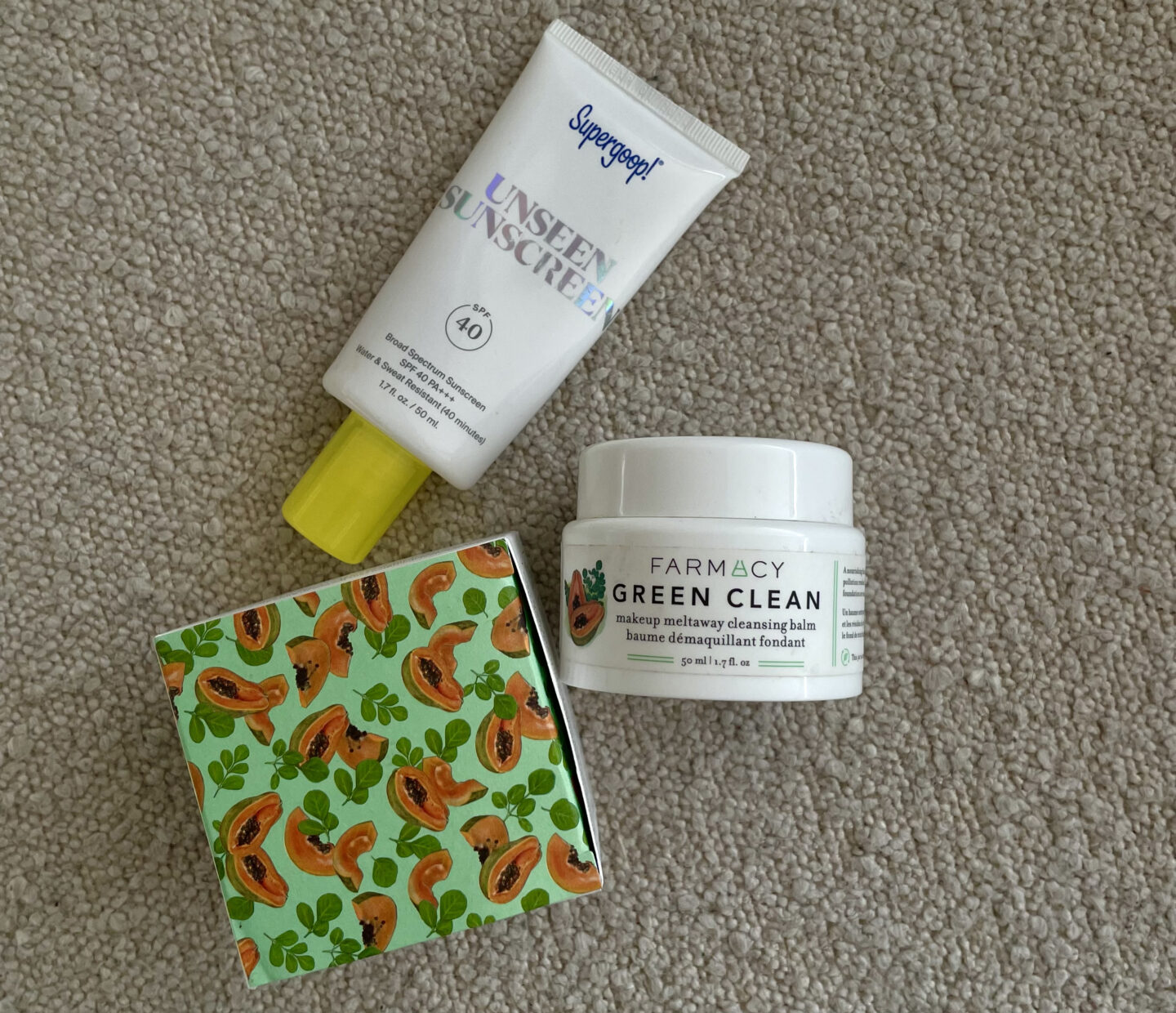 Gucci's "1961 Jackie" bag
The Gucci 1961 Jackie bag is a leather shoulder bag with a rounded silhouette and gold hardware. The bag — originally called the Fifties Constance — was made famous by photographs of Jacqueline Kennedy shielding her face with the bag from paparazzi. The bag was then renamed in homage to the style icon.
This is the most expensive item on this month's list. However, I was able to buy this bag at a much lower price than the MSRP because I purchased it when vacationing in Europe. In the two months since I've bought it, it already has the lowest cost-per-wear of all my handbags — even lower than my $90 JW Pei bag — because of its classiness, versatility, and how well it compliments nearly every outfit I wear. Every time I put together a look, I stop and ask myself, "Would the Jackie bag go with this?" And the answer is almost always, "Yes!"
I chose to get the bag in green because I wear a lot of neutrals and this bag helps me add a pop of color to everything I wear!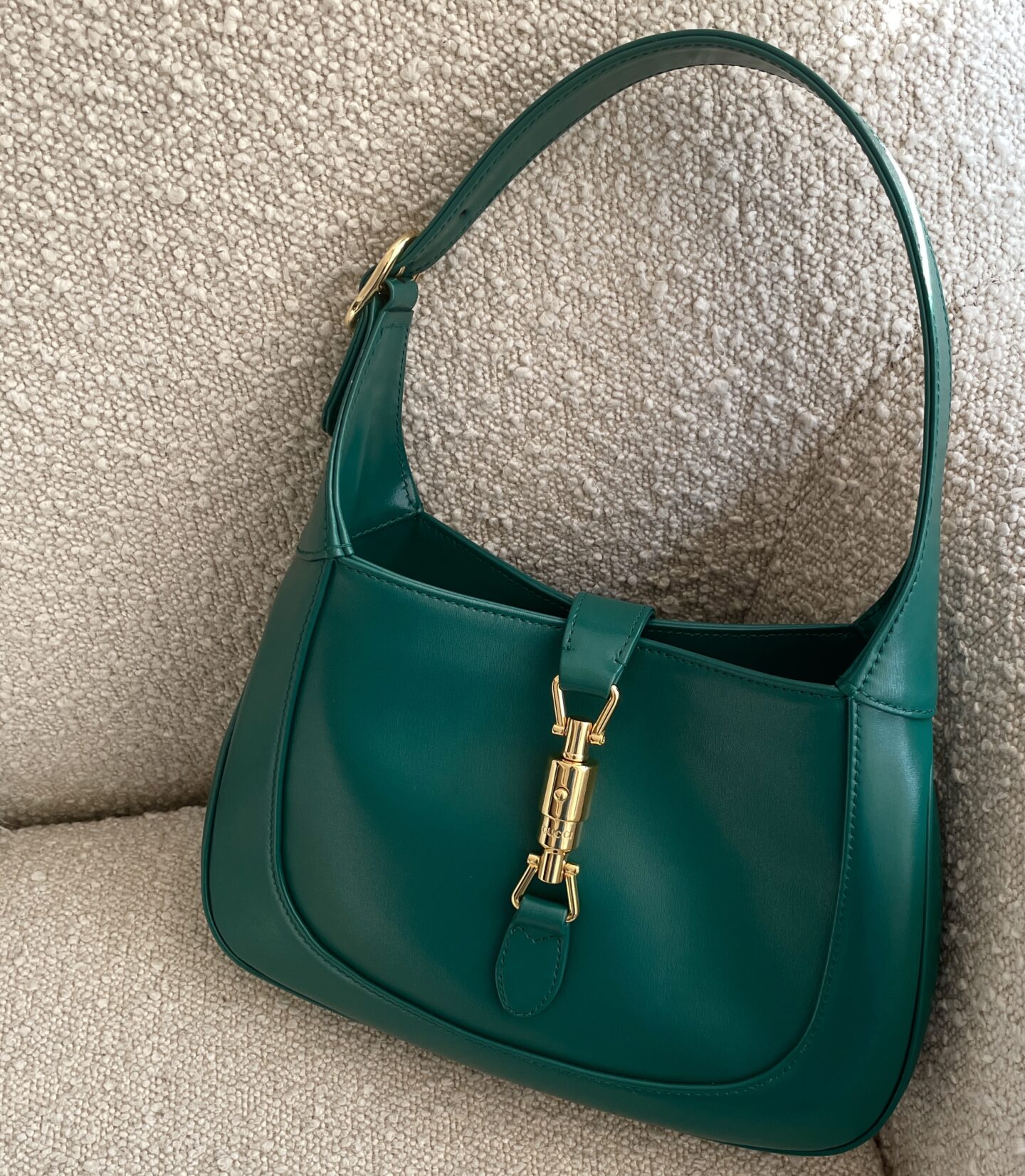 ALOHAS "Two-Toned" Ankle Boots
The ALOHAS two-toned ankles boots are leather bi-color boots made of ethically produced leather. They have a square two and block heel and sit about two inches above the ankle.
I purchased these booties in the south bicolor camel & beige option. They're perfect colors for my fall wardrobe, but they also match so many of my spring looks as well! Because they're so unique, they add a touch of something special and different to my outfits. Because I primarily wear neutral tones and basics, it's a great way to add some visual interest and dimension effortlessly.
Supergoop "Unseen" Sunscreen
The Supergoop Unseen Sunscreen is a completely invisible sunscreen that is weightless and fragrance-free. The sunscreen comes out of the tube clear and is completely undetectable on the skin — absolutely no white-cast!
While spending time out in the sun with friends this summer, I learned that this sunscreen doubles as an amazing makeup primer. Honestly, it helps to remember to wear my sunscreen even more because I know that I want it beneath my makeup because it's a primer and helps my makeup last longer.
Even though the days are getting shorter and cooler as we switch into the winter months, it's still important to wear sunscreen — so don't skip it!
Hourglass Veil™ Translucent Setting Powder
The Hourglass Veil™ Translucent Setting Powder is a "finely-milled, weightless powder" that sets makeup and blurs any imperfections on the skin such as fine lines, wrinkles, and pores.
I mentioned this powder in my makeup faves post, but I cannot reiterate enough how much I adore this setting powder! This setting powder keeps my concealer in place all day and all night. A good tip is to look up to the ceiling while patting it under the eyes because it keeps the concealer from creasing. It also doesn't give me any flashback in photos when I pair it with my favorite NARS concealer!
Have you tried any of these products? Which ones are your favorites or which ones are you excited to try? Let me know in the comments!